Is a Remote Challenge ( remote races series) Earn the 7 inches medal after complete 6 races in our races calendar or complete in one time (one transaction). You can run any time, any place, any state, any city, in your favorite place beach GYM .another race, with friends, training time, etc.
The story of The Lion-Knight Templar.
Leoncio XI was a liege who was caught in a witch's spell. The witch turned him into half-man half-lion while he was protecting the Excalibur sword. Leoncio XI was a member of the brotherhood of the Knights Templar, he was also a land conqueror and he fought against Muslims during the Holy War.
As he returned to Britain, after fighting bravely in the Holy War, he found out that King Arthur was dead. Hence, the Excalibur sword was in danger, since the Witch of the Mountains wanted to own it. Leon decided to get back the sword, and he knew that the Lady of the Lake's life, the one who protected the Excalibur sword, was in danger too.
The Lady of the Lake saved the Excalibur from the witch's mighty powers. Leon tried to get the sword back to a safer place but the Witch of the Mountains caught a spell on him and turned him into a lion. Merlin, the wizard, tried to break the spell but he couldn't make it successfully: The witch's powers were too strong. Hence, Leon was half-man, half-lion for the rest of his life. However, The Excalibur was returned to the Lady of the Lake for eternity and beyond.
Event details and schedule – Race Rules
Complete 6 races (each race inside the event calendar) or buy the general price one transaction (get 9 medals)
Price: 99.99 Price for 9 medals Included the Leon Knight Medal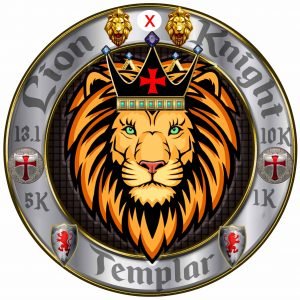 where: Any Place Any time
Who: All people all ages walkers are welcome.
When: From January 1st to December 31st (all year)
This time, we have appointed a special medal for the new Survivor's Challenge, one of our virtual races. The medal has a size of 7 inches and you can win one by accomplishing the following virtual races:
Halloween Pumpkin Run
Halloween Owl Medal
Turkey Trot
Santa Christmas Run
New year's
Happy Christmas (Snowman)
Winter Race (Mystic clock)
Cross Windy
St Patrick's Run
Yeti
Pizza Run
Wonder Mother
Father's Day Run
Boston Strong
This medal will be delivered after complete the challenge
For all participants registered from August 20th in any race
You just have to complete 6 out of 12 of the competitions already mentioned.
You can join the race by signing up individually, according to the virtual races schedule.
You can also sign up by only $99, 99. This way you can get 8 medals, (6 of them are mandatory!) an extra medal and the Emperor's Lion Leoncio XI medal.
You will be informed via e-mail about the shipping of the medals to your current postal address.
Remember, it is a virtual race. You can participate from anywhere according to your schedule.
The race distances you can choose are: 10K/ 5K/ 1K or Half Marathon or any distance where you like.
If you have any questions, please send an e-mail to: race_director@runners2life.com
2. Important info for You.
Bib numbers: emailed 3 business days after registration.
More info: race_director@runinspirations.com
Facebook page: https://www.facebook.com/Runinspirations-Virtual-Races
Feel Free to unloading your photos and share your race experiences.
No accept claims, not money back after registration.
Refund Policy
Please note that Runners2life & Runinspirations reserves the right to reject any entry. We also adhere to the standard running industry policy: All entry fees are non-refundable and non-transferable. This is noted on our registration application and when you register for our events you must agree to this policy. You may not give or sell your number to another individual – doing so could result in your disqualification as well as the runner using your race number. The entry fee for this year's event will NOT transfer to next year's event, no exceptions. This policy stays in effect whether you are injured, have an unexpected business or family emergency, pregnancy, etc. There are NO exceptions.
Code of Conduct : Disputing Transactions Policy, Prevent Loss and Fraud Policy
After the registration: I have knowledge, I am prohibited and agree not to make a claims for repayment of money,returns of merchandise, refund in all kind. I promise to have a behavior of respect for other participants, organizers, attendees and all the people involved in the event.
In the case the participant make disputing transactions with her/his bank or financial organization after o before the participant receive tracking numbers or items (medal or t-shirt), with the services of the website like bib numbers, banners or any product with the current event, will be incurred in fraudulent transaction and robbery of merchandise. This action will be prosecute with the maximum legal amount and report to the police linked with the personal information has provided from the participant. Also this action will be take legal process citation by the court to repair the economic damages for that.